Commercial Caulking & Glazing Company – Charleston, SC
Caulking and Glazing Services
Ambassador provides a full range of commercial caulking and glazing services in the Charleston, SC area. Our reputation for quality work and reliable service has been earned over 10 years of service. We offer an array of caulking, sealing, and glazing services and are experts at installing all types of sealants—from expanding foam sealants and penetrating sealers to small waterproofing jobs and pedestrian and vehicular grade deck coating. We can caulk buildings of any height, sidewalks, glass, window installations, expansion joints, floor joints and much more.  Our caulking services are available for both interior and exterior surfaces.  Ambassador handles new construction, renovations, and repairs to existing buildings, working with many local general contractors and management companies, on a wide variety of projects.
Improve Joint Longevity
Control joints are degraded by weathering and will last 5 to 30 years depending on the type of sealant used, the movement the joint is subjected to, the amount of exposure that the joint receives, and the type of building material. We typically recommend replacing expired control joints with silicone caulking due to its extended life expectancy when compared to urethane caulking. We believe that this extended life expectancy and a variety of other factors makes silicone a far superior product for the exterior facade of commercial properties. We recommend completely removing expired control joints and replacing with the installation of new backer rod—instead of skim coating over expired control joints. This helps to create the correct width to length ratio for the newly installed caulking and maximize the amount of elongation for the joints. A better range of elongation typically results in longer lasting caulking joints, increased lifespan for the sealant, and decreased caulking costs for the property owner. Here in Charleston, we have many historic buildings that need the right care to maintain their integrity.  We give great attention to detail on every job regardless of size. If you need caulking services in the Charleston, SC area then call us today for a free estimate.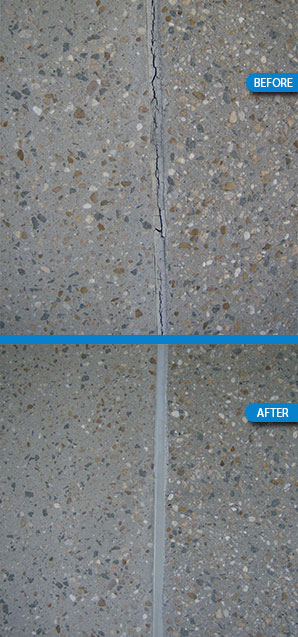 Featured Projects
In this project, we caulked out at one of the new Boeing sites. Here are our technicians applying some NP1 in order to seal up the floor joint is this production area. This low level caulking is pretty easy aside from being on your knees. We also replace caulk around windows, doors and expansion joints on commercial buildings.