Pressure Washing, Window, Roof & Gutter Cleaning - Charleston SC
WINDOW CLEANING
If you are looking to have your windows cleaned and want it done right, then you have come to the right place. We have over 55 years combined experience on our crew. Our employees are just that—not sub-contractors.
PRESSURE WASHING
Here in the Charleston area, the mold and mildew are a real issue in terms of maintaining your home. Homes in this area of the country need to be cleaned once a year in order to properly maintain the exterior.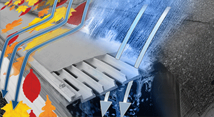 GUTTER PROTECTION
Ambassador is happy to offer the installation of Gutter Glove, the best gutter protection system available. Gutter Glove is installed on gutters to keep debris from clogging it up. Gutter Glove's mesh is so fine that even sand can't pass through.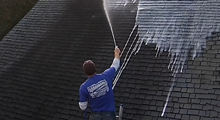 ROOF & GUTTER CLEANING
If you've lived in the south for any length of time, you have most likely seen this sort of algae growth on roofs. This algae is actually feeding off the materials in the shingles. Get help and protect your property today.
FAQs for the Window Cleaning and Pressure Washing Industry