What our Charleston Low Country Clients Should Expect
Regardless of what service we are providing, rest assured we have a considerable amount of experience in what we do. We are also involved in worldwide trade associations that allow us to stay up to date with any changes in our industry. From safety to service we have you covered.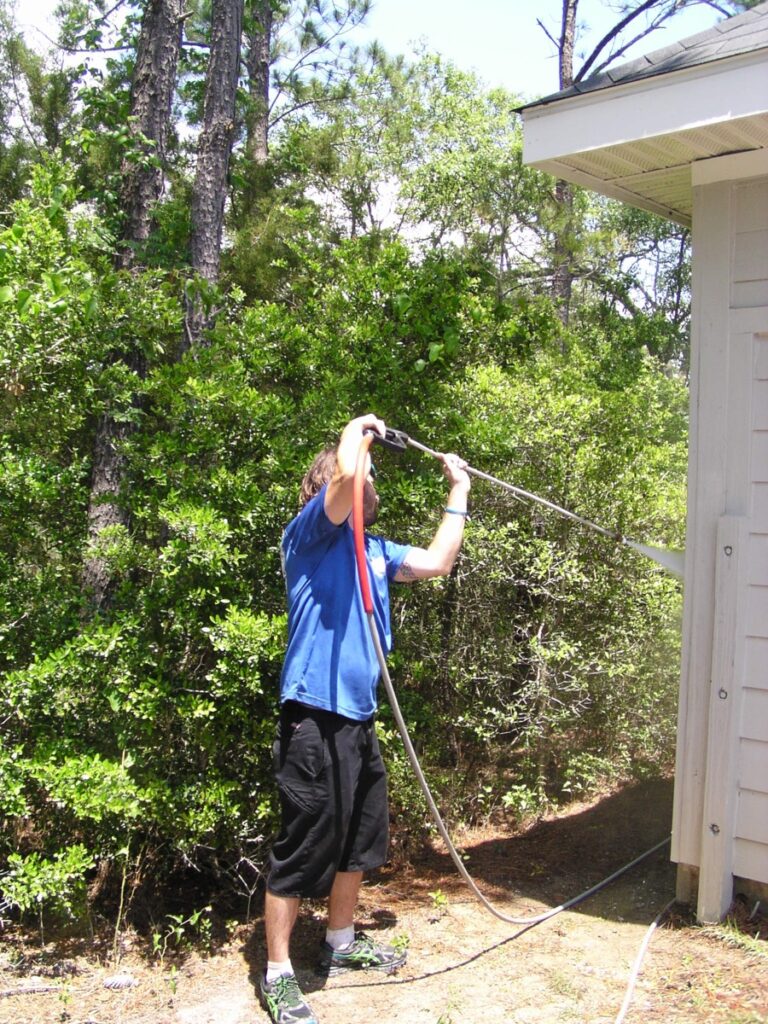 Pressure washing house:
Our goal is to remove dirt, dust, mold and mildew from the exterior using a soft wash system. This soft wash system uses water and a cleaning solution to remove mold and mildew. With concrete and brick, we may need to use some pressure. We may or may not be able to remove stains. Sometimes when we remove mud dauber nests there is a stain left behind. Regarding flat surfaces like decks, patios and porches we do a general rinse on all affected areas, this means we clean up after ourselves.
Prior to our appointment please remove any items that may be in the way such as hanging or potted plants, rugs, cushions, decorum and anything you don't want water or cleaning solution on. We can cover ceiling fans.
Our technicians are very mindful and respectful of surrounding vegetation however, there is a possibility that our cleaning solution can damage delicate plants. That being said, damage is highly unlikely. While we do not guarantee the safety of your vegetation; we do water the plants before and after pressure washing services as a standard procedure.
As mentioned above, we use a soft wash system rather than high pressure but if your home has any gaps around doors or windows that will allow water in then we recommend placing towels as a barrier. Also, you can let the technician know to avoid those areas if that is preferred. It is also worth mentioning that, on rare occasion, we have seen water leak inside of outdoor electrical outlets, light fixtures, and ceiling fans. By design, these outdoor items are rated to withstand wet conditions. However, they can break down over time and become susceptible to failure. If you encounter any outages, allow ample time for things to dry out before using, and check all breaker boxes. Please understand that this is a rare unpredictable event, and we are unable to take responsibility for electrical repairs or replacement.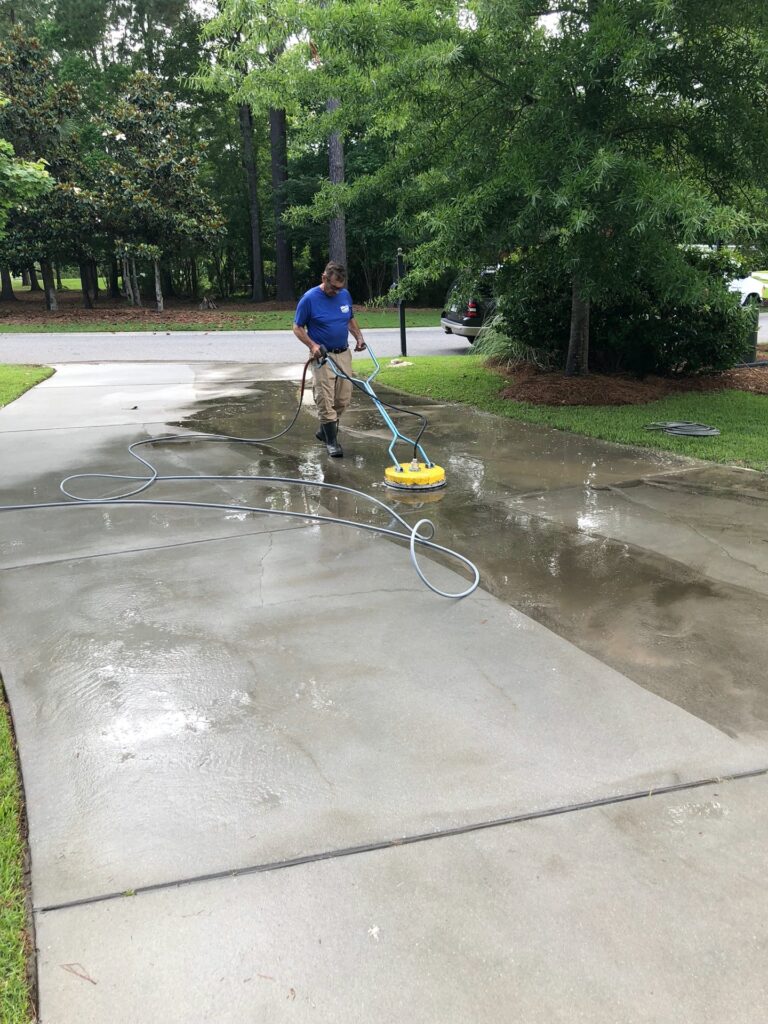 Pressure washing driveways & walkways:
We use high pressure to remove dirt mold & mildew. If you have rust stains or oil spots that you need treated, please let us know prior to the appointment.
Pressure rinsing decks:
Generally, we will use water and cleaning solution on all deck surfaces then rinse all the surfaces down leaving the deck free of loose dirt, mold and mildew.
Pressure stripping decks:
This is where we use consistent medium pressure across every square inch of the deck to remove dirt, mold, mildew and oxidization. After this service, your deck wood will be brought back to nearly the original color of the wood. It is recommended that you have your deck sealed or stained after this process.
Window Cleaning:
When cleaning exterior windows, we typically hand clean using the squeegee method, wipe down any screens and sills. When cleaning the interior windows, we use the squeegee method and wipe out the tracks. If you want detailed cleaning of the tracks, then please request this prior to the date of service.
Gutter Cleaning:
When we clean gutters, we abide by OSHA standards by not walking on the roof without being properly tied off. With that said we will remove roof debris that is within reach of our ladder. If a customer would like us to blow all the debris off the roof then we will simply charge a fee to set up our safety gear in order to safely walk on the roof. We remove the debris from the gutters by hand and bag the debris. Before completing the service, we make sure all the downspouts are cleared. Normally, downspouts clear out just fine, rarely they will need to be taken apart to be unclogged. If they need to be taken apart, there may be an additional charge. We are not able to clear underground pipes.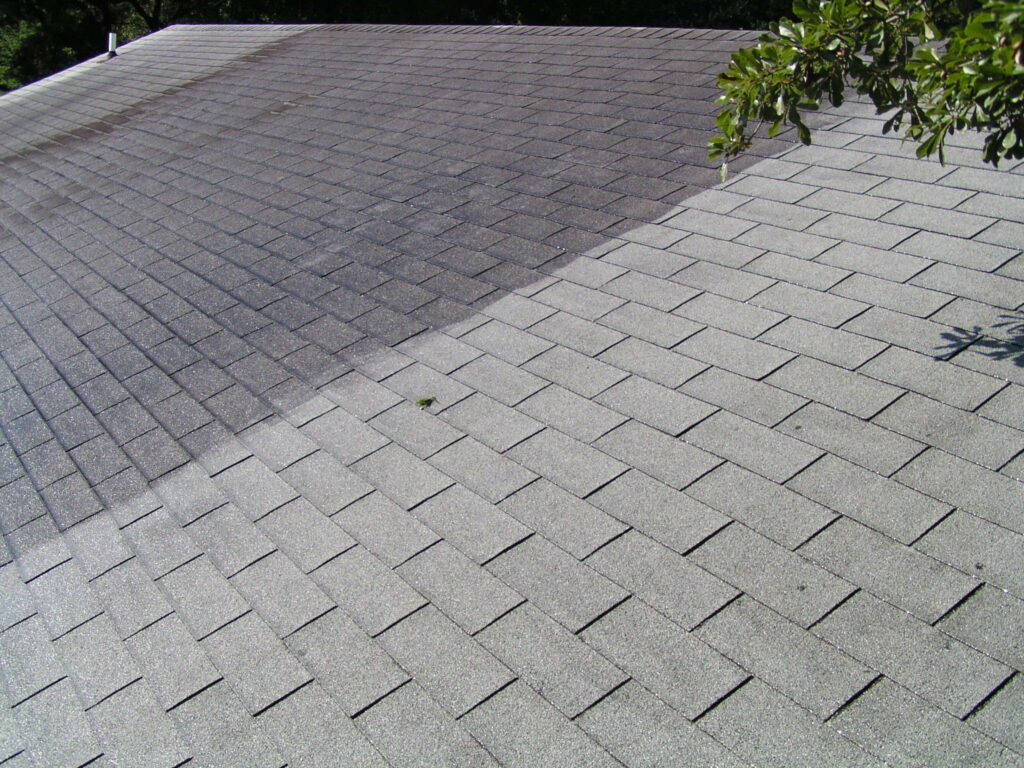 Shingle Roof Cleaning:
We use a cleaning solution to remove mold from shingle roofs. When the home has gutters it is easier to manage the runoff. When a home does not have gutters, it makes runoff more of a challenge. Our roof cleaning crew consists of two technicians. While one technician is servicing the roof, the other technician is constantly rinsing all the vegetation with water. When finished a solution that helps neutralize the cleaning solution exposure is applied to the vegetation. We do all we can to take care of your vegetation, however, as you can imagine we cannot make guarantees that there will be zero damage to vegetation.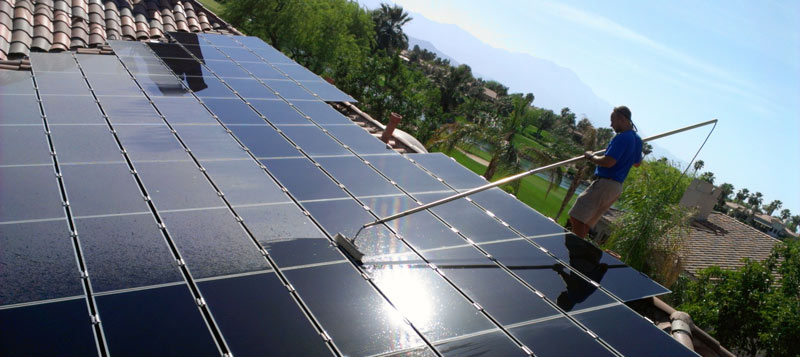 Solar Panel Cleaning:
When we clean your solar panels, we generally use deionized water to remove dirt, dust and pollen from the top side of the panels. Depending on access we may choose to use a hand cleaning method.
Here at Ambassador we strive to be the best at what we do. It is our pleasure to serve the fine people of Charleston South Carolina and the surrounding areas of the Charleston Low Country. We look forward to working with you!