RESIDENTIAL WINDOW CLEANING – CHARLESTON, SC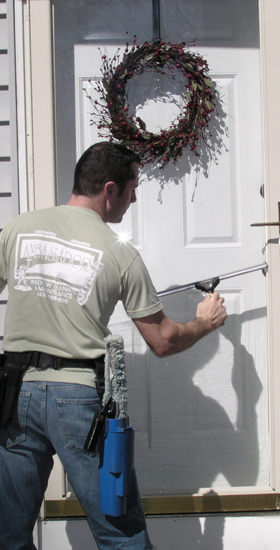 Residential Window Cleaning Services
If you are looking to have your windows cleaned and want it done right, then you have come to the right place. We have over 55 years combined experience on our crew. Our employees are just that—employees, not sub-contractors. We hire only the best so that we can all have peace of mind. We are fully insured, which means we have both liability insurance and workers' compensation insurance.
At Ambassador Window Cleaning we go the extra mile to take care of our customers.
 We use bio-degradable commercial grade soap. We leave our water bucket outside your door to ensure there are no spills. We wear shoe protectors in order to keep your home clean. Any ladders we bring inside your home have protectors on them to keep your walls clean. We will move furniture if the need arises and much more.
 Regardless if your home is a small one floor structure or a 30 room mansion, our staff is trained to handle your needs. We predominantly clean windows by hand, using the squeegee method. At times, however, we are able to use a water fed pole method for customers that are on a tighter budget. You tell us what your needs are, and we will accommodate.
 We offer free estimates and we are happy to provide written referrals from customers that have used our service. Please call or e-mail us with any questions you have. We are happy to help any way we can. We are all about forming long term relationships.
Our goal is to form relationships that last a lifetime.