RESIDENTIAL ROOF CLEANING – CHARLESTON, SC
Your Trusted Residential Roof Cleaning Company
If you have lived in the the Charleston, SC area for any length of time, you have most likely seen mold growth on the roofs. This mold is actually feeding off the materials in the shingles. The longer it is allowed to grow, the worse off the quality of the shingles will be. It's not just an eye sore but also a maintenance issue. AWC is dedicated to providing the best roof cleaning in town, and we look forward to helping you. REQUEST AN ESTIMATE.
Wow, what a difference! We apply our solution to the roof with low pressure so that the shingle quality is not compromised then we let the solution to the work. As you can see, the curb appeal is greatly enhanced. A ten year old Charleston Roof never looked so good! Roof cleaning can be a simple answer to a big problem.
Many times, we are actually able to clean roofs without getting up on them. This is especially handy with some of the Charleston homes with the steep roofs. Usually, the cost of cleaning is less than 1/15 the cost of having a roof replaced. We apply our solution with low pressure soft wash and let the solution go to work.
Other times, however, we do need to access the roof. In these cases, we have the means to clean the roof with very little walking around. We give free estimates, so give us a call today. A dirty roof is not just an eyesore! We are keeping Charleston clean one roof at a time! If you're within 25 miles of Charleston and need your roof cleaned then Ambassador is your cure to that need.
Our employees are just that—employees. They are not sub-contractors. We hire only the best so that we can all have peace of mind. We are fully insured with both liability insurance and workman's compensation insurance.
We offer free estimates and we are happy to provide written referrals from customers that have used our service. We have several written referrals from roof cleaning customers in the Charleston area. Please call or e-mail us with any questions you have. We are happy to help in any way we can. We are all about forming long term relationships that last a lifetime. REQUEST AN ESTIMATE FROM CHARLESTON'S FINEST
Will the pressure damage my roof?
We don't apply high pressure to your roof. We apply the chemical with low pressure and let it do the work. The chemical in most cases can be left on the roof and after several hours it deactivates. If we do rinse the chemical off, we do so with low pressure.
Featured Projects
Another successful roof cleaning project.  Here is a roof cleaning job we did that turned out great.  We removed all the black mold in just a couple hours.  No need for high pressure when you let the cleaning product do all the work.  Keeping Charleston clean one roof at a time!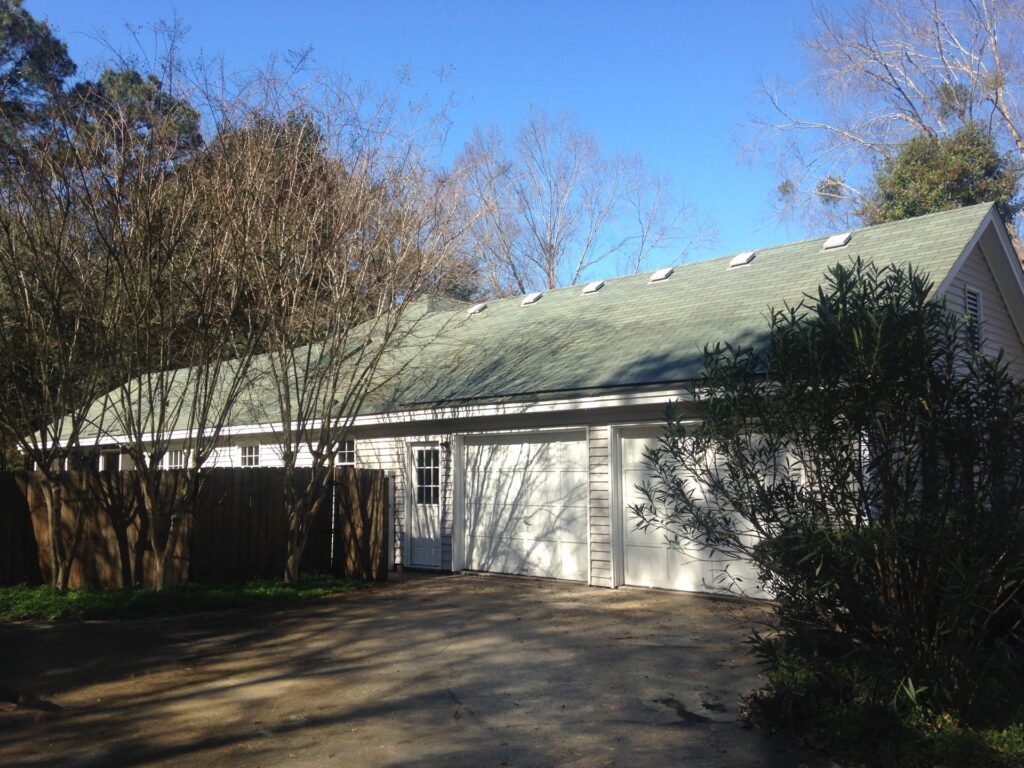 Here are some more photos of our roof cleaning work in the Charleston area.