GUTTER PROTECTION - CHARLESTON, SC
Ambassador is happy to offer the installation of Gutterglove Gutter Guard, the best gutter protection system we have found. Gutterglove Gutter Guard is installed on gutters to keep debris from clogging up the gutter. The Gutterglove Gutter Guard mesh is so fine that even sand cannot pass through. Call today for a free estimate. For years to come, you will see this as one of your best investments.
Gutterglove Gutterguard, a highly efficient gutter protection system, has truly past the test as the #1 gutter guard of choice among homeowners nationwide. Because of Gutterglove's high tech filtering system, it keeps everything from sand, leaves, pine needles, seed pods and more out of your gutters. Gutterglove's patented technology is cutting edge and will eliminate the need to ever clean out your gutters again. See a video about Gutter Glove.
Read what homeowners have to say about Gutterglove:
"I've been involved in the NASA Apollo Program for about 10 or 11 years from 1959 through the summer of 1971. I was a quality control representative for NASA. And I had the primary responsibility to oversee the development, and the manufacturing, the assembly, and the testing, of the lunar excursion modular descent engine. And I put my stamp of approval on it that it meets all of NASA's requirements, for a reliable engine. The Apollo Achievement Award, NASA presented that award to me because they expected me to assure that the quality and realiability of that engine was acceptable to NASA.
Question: And how was your experience with NASA to lead you to believe that Gutterglove is a quality gutter guard?
Answer: The way Gutterglove is constructed. It's got an anodized aluminum support with a stainless steel mesh and the way it's attached to the gutter, from the roof to the gutter, it covers the gutter opening, and therefore it doesn't allow any debris to enter the gutter, strictly only water can get into the gutter and down the drain. Based on all my findings, I found that the Gutterglove is the best one that is designed and allowed just the water to flow into the gutter. And I'm really happy with it. I have it about 5 years now, this is the 5th season right now, and it's still clean, so I don't have to worry about getting up there and cleaning the gutter out anymore. I'm really happy.
We serve all areas around Charleston SC including:
Kiawah, Seabrook, James Island, Johns Island, Folly Beach, Ravenel, West Ashley, Summerville, Goose Creek, Moncks Corner, Daniel Island, Mount Pleasant, Isle of Palm, Sullivans Island, North Charleston. Please read the FAQ below.
PRO GRADE STAINLESS STEEL MICRO‐MESH
30‐mesh won't warp or crack like plastic or uPVC, & blocks even the finest debris.
RAISED V‐BEND TECHNOLOGY
Raised V‐Bend lifts debris off the mesh so it can blow off naturally and improves water flow.

ANODIZED ALUMINUM FRAME
Withstands the harshest environments including heavy pinecones and small tree branches.

KEEPS EVERYTHING OUT, FOR GOOD
No more gutter cleaning with Gutterglove Pro®.

Stainless steel micro‐mesh keeps out leaves, pine needles, and roof grit.
Mosquitoes, wasps, birds, rodents, and other annoying critters are unable to nest in your gutters.
BUILT TO LAST
Made from stainless steel micro‐mesh.
No plastic here! Gutterglove Pro® won't warp, crack, or rust, so you can expect protection season after
season.
Micro‐mesh combined with an aluminum extruded frame provide the perfect amount of strength and
flexibility for the ultimate gutter protection.
No Need to Replace Your Gutters. Gutterglove Pro® installs on any type of gutter and roof, guaranteed.
HIGH PERFORMANCE
Bends in Micro‐Mesh allows significantly better performance than competitors.

Lifts debris off the gutter guard so that it can blow off in the wind.
Ensures superior water flow, even in severe downpours.
Enhances rigidity to support heavy debris.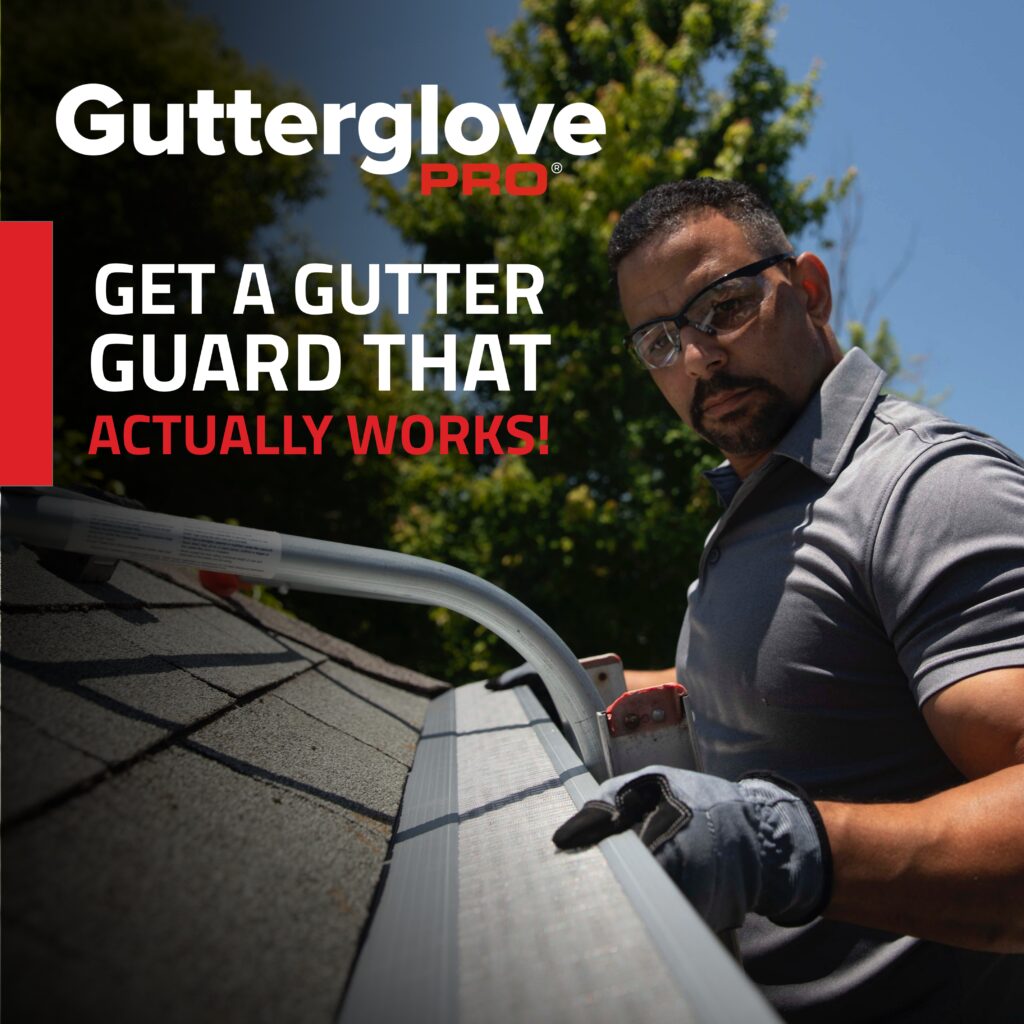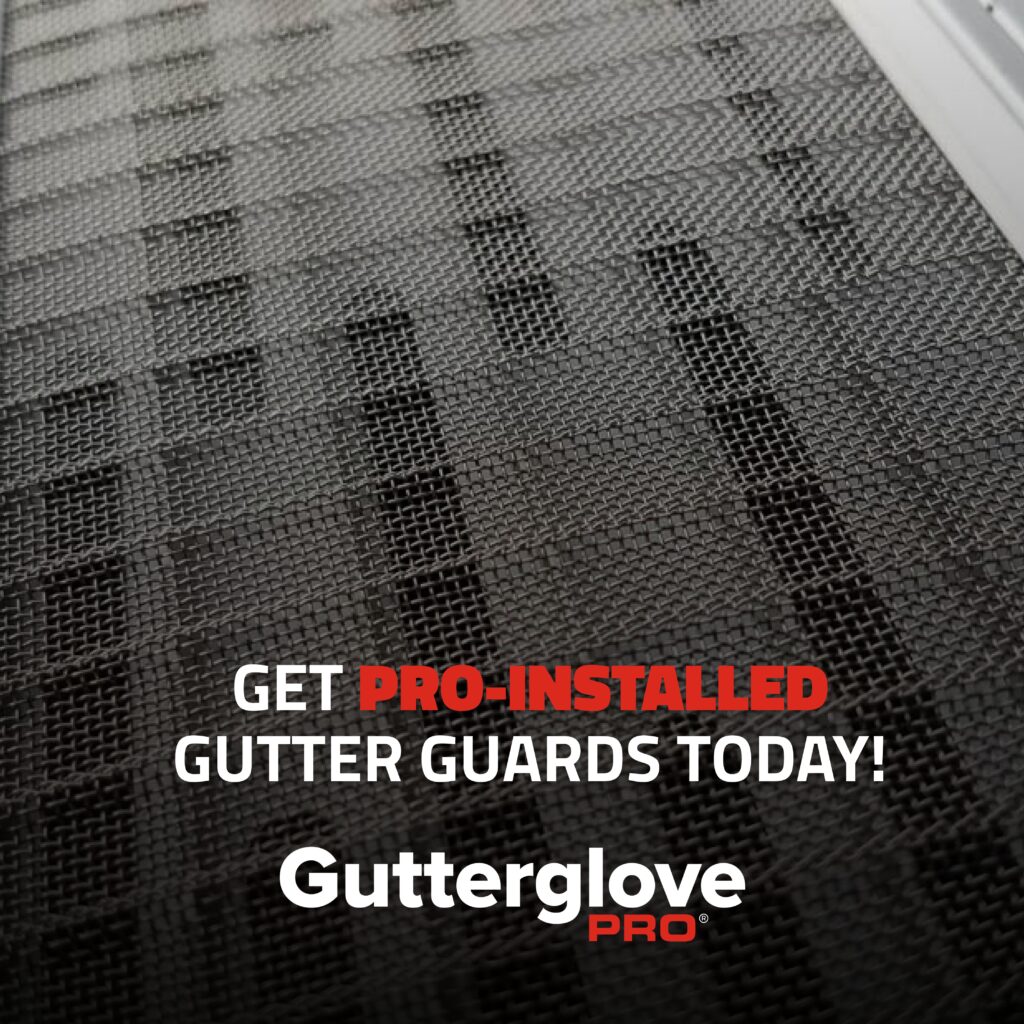 Frequently Asked Questions:
Will debris collect on the top of Gutterglove and not fall off?
In general, most of the debris (leaves, sand, small tree debris) falls off Gutterglove. Through Gutterglove's extensive research program, we have discovered that a combination of rain pounding, the slope of the roof, and gentle to strong winds push virtually all debris off Gutterglove. The pounding of the rain actually self-cleans the mesh in most situations!
Why does Gutterglove use an anodized perforated aluminum frame to support the 316L stainless steel mesh?
Anodizing the aluminum frame is definitely overkill, but then again, all the components used in Gutterglove are. The founders of Gutterglove believe that using the highest quality parts in our product is but one of several things that homeowners want.
Is Gutterglove too heavy for a gutter?
No! It weighs approximately 12.8 ounces per foot. Or, 4 pounds for our 5 foot sections! Don't worry about the weight though, because half the weight rests on your roof and the other half on your gutters. Only 6.4 ounces per foot actually rests on your roof.
Will it fit on any gutter?
Gutterglove fits on just about every existing and new gutter system. In the slight chance that it wouldn't fit, our Certified Installer would make that determination upon evaluating your home. An example of where it would not be ideal: If the gutter and roof are so old that they are warped and very crooked, Gutterglove may not work effectively.
Is there a difference in the types of stainless steel mesh used on gutter guards in the market today?
Like other gutter guards on the market today, especially those that say "no maintenance" for their product there IS maintenance involved on EVERY gutter guard marketed today. The maintenance is very simple, it's easy and only takes a few minutes.
Can the Stainless Steel mesh tear?
In normal weathering conditions it will never tear. However, it may tear if an entire tree falls on it