How to Choose the Right Pressure Washing Service
Are you looking for a way to improve the look of your home's exterior? Consider pressure washing! Pressure washing can remove dirt, grime, and other build-ups from your home's siding, deck, patio, and more. But how do you choose the right pressure washing service? Follow these tips to find a great service provider in your area.
Define your needs – what areas of your home or business do you need to have cleaned?
It is important to determine the areas of your home or business that require pressure washing services. Start by evaluating those parts of the property that are most exposed to sunlight, rain, debris, and other elements. Consider the size of each area and the type of surface that it consists of in order to determine the pressure level and cleaning methods necessary to achieve your desired outcome. Organizing this information ahead of time will allow you to narrow down your search for a pressure-washing service that meets all of your needs.
Research different pressure washing services in your area – read online reviews, ask for recommendations from friends or family, and compare prices
There are several steps to take when researching pressure washing services in your area. Start with online reviews and ratings, as these can help you find the best performance standards and quality of service. In addition, ask family, friends, and neighbors for their recommendations and consider any feedback they may have. Last but not least, be sure to compare prices from multiple companies since rates can vary significantly within the same industry. All of these steps will help ensure that you choose the right pressure washing service for your specific needs.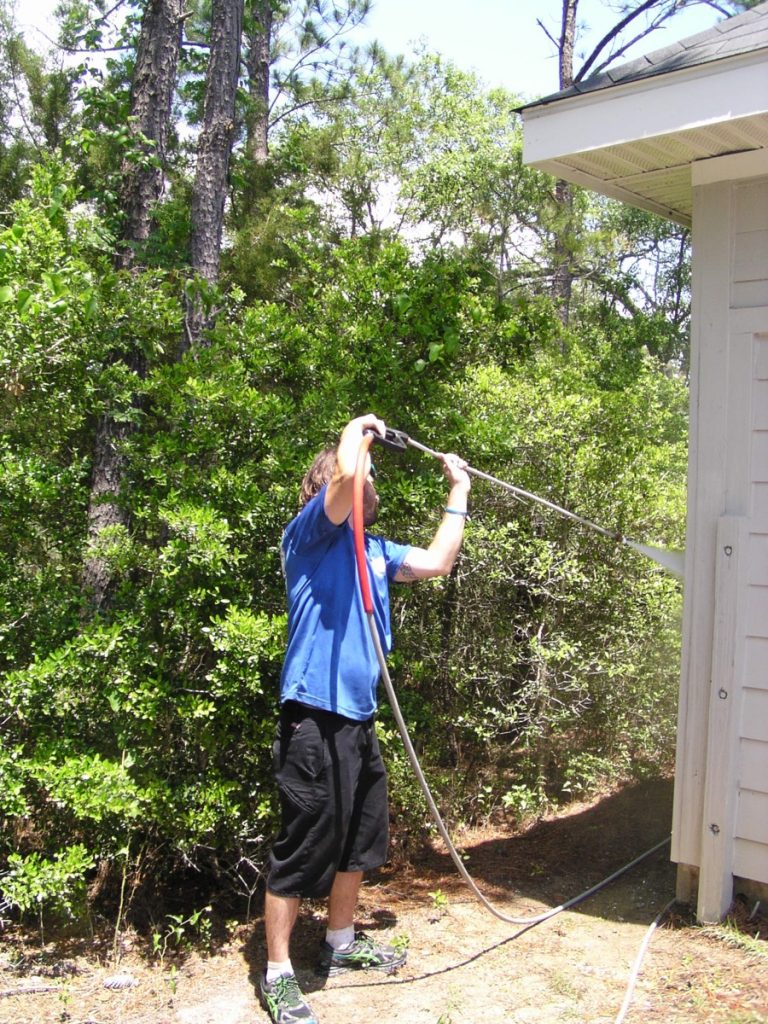 Schedule a consultation with a few different companies to get an estimate of the cost and scope of work
Before making any organization pressure wash your home or office building, make sure you schedule a consultation with several different companies. This way, you'll get an idea of the best price and most comprehensive service plan available. During the consultation, ask each company about their experience and coverage window. Additionally, inquire about the chemical they use, such as eco-friendly products, and any warranties offered on labor or materials. Finally, don't forget to check out each company's customer reviews—it will give you a solid indication of which one is the right choice for your pressure washing needs.
Ask each company about their experience, insurance, and guarantee policy
When selecting a pressure washing company, it is important to do your research. Each service should be asked about their experience in the industry, as well as their insurance and guarantee policy. It is necessary to know what type of coverage each company has in order to make sure that any potential customer is covered in the event of an accident. Furthermore, each pressure washer will have different levels of guarantee for their work so make sure to ask for details on that as well. Doing these few simple steps can help you confidently choose the right pressure washing service that fits your needs!
Make your decision based on all the information you've gathered – choose the company that you feel is the best fit for your needs
Choosing the right pressure washing service is an important decision in protecting your property from the damaging effects of dirt, grime, and mold. After gathering all the information about the various services available, it's time to make a selection that best suits your needs. Consider each company's reviews, experience levels, skillset, and customer service, and also look into their payment policies when making your choice. With all these factors put into consideration, you'll then be better equipped with the knowledge needed to make a wise decision on which pressure washing service is right for you.
Making the decision to invest in pressure washing services for your home or business can be a tough one – there are a lot of factors to consider. But if you take the time to do your research and ask the right questions, you'll be sure to find a company that is perfect for your needs. With just a little bit of effort, you can have peace of mind knowing that your property is in good hands.
Ambassador Window Cleaning & Maintenance
https://www.google.com/maps?cid=5684033418591054784
(843) 766-6890
https://awc.cc/