Wondering How much it Costs to Get your Roof Cleaned? Check Out Our Roof Washing Prices Guide!
If you're wondering how much it costs to get your roof cleaned, you're not alone. Many people are curious about roof washing prices and for good reason. A clean roof can make a big difference in the look of your home, and it's important to keep your roof in good condition to protect your investment.
Our roof washing prices guide will help you understand what to expect when you hire a professional to clean your roof. We'll cover the average cost of roof washing, as well as factors that can affect the price. Whether you're looking to save money on your next roof cleaning or just want to be informed about what the process entails, this guide is for you.
Why you should get your roof cleaned
Keeping your roof in good condition is important for maintaining the strength and longevity of your home. Cleaning it regularly can help prevent damage due to environmental elements like mildew, mold, algae, and moss. Taking the time to get your roof cleaned by a professional with experience and expertise guarantees that experienced professionals are taking all the necessary steps to give you a clean and clear roof. Plus, our roof washing prices guide helps streamline the process so you can determine how much it will cost upfront! Getting your roof cleaned not only saves you money in the long run but also helps save your peace of mind.
How often do you need to get your roof cleaned?
To keep your roof in the best condition, it's important to regularly engage in roof cleaning and maintenance. Depending on where you live, the climate, and other factors, it's generally recommended to have your roof cleaned at least once every three years. By scheduling regular appointments with a professional roof cleaner and maintenance service, you can ensure that any problems with your roof will be identified before bigger issues arise. It also means that you can rest assured that your roof is clean and free from debris. Checking out our prices guide for a more detailed estimate of the costs associated with getting your roof cleaned can help you make a budget-friendly decision about how often you need to wash your roof!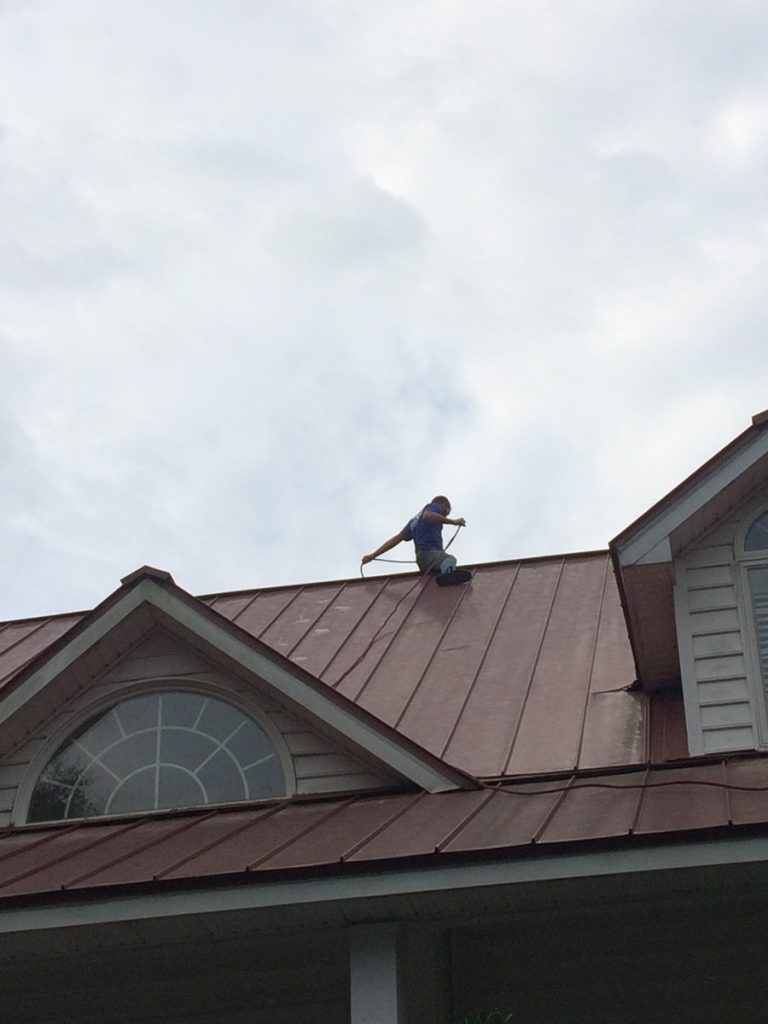 The average cost of roof cleaning
Knowing the cost of roof cleaning can help you budget for these necessary home maintenance tasks. The average cost of roof washing services varies depending on the type of roofing material, square footage, and any additional services. Generally, it costs around $200 for moderate-sized residential roofs with asphalt shingles that require light work. For bigger projects that involve more labor and high-end materials, you can expect to pay upwards of $500 or more. To get an exact estimate of your roof's cleaning price, refer to our guide for additional prices and helpful tips for keeping your roof in top condition.
How to save money on roof cleaning
Roof cleaning can be expensive, but there are a few simple steps you can take to save money on the service. For example, opting for high-pressure washing rather than chemical treatments can significantly reduce the cost and lower the environmental impact. Additionally, research various roof cleaning services and compare their rates to find the most cost-effective option for your needs. With our roof washing prices guide, you'll get a sense of what you should expect for the price and make sure you're getting the best deal available.
Tips for hiring a roof cleaner
When it comes to roof maintenance, it is important to hire qualified professionals for the job. When selecting a roof cleaner, make sure to ask for their experience and qualifications, and see if they have any references or customer reviews that you can look at. Additionally, don't be afraid to ask questions about the cleaner's safety procedures and whether or not they carry liability insurance. Finally, if you're on a budget, make sure to look up our roof washing prices guide so you know exactly how much you should be paying for the services. By taking these steps you can help ensure that your property is in the hands of a professional and that your wallet stays safe!
A good rule of thumb is to have your roof cleaned every two years. If you live in an area with a lot of trees, you may need to have it cleaned more often. The average cost of roof cleaning is $300, but prices can vary depending on the size and pitch of your roof. You can save money on roof washing by doing it yourself or hiring a company that offers discounts. When hiring a roof cleaner, be sure to get multiple quotes and read reviews before making a decision.
Ambassador Window Cleaning & Maintenance
https://www.google.com/maps?cid=5684033418591054784
(843) 766-6890
https://awc.cc/