How to Remove Stubborn Green Stains from Rooftops With Soft Wash Roof Cleaning
The rain is relentless, and the roof of your house starts to leak. All the buckets in the world can't seem to catch up with all that water coming through your ceiling, and you're getting more desperate by the minute. You finally decide it's time for a professional roof cleaning company to step in before everything gets ruined. In this article we'll discuss the benefits of soft wash roof cleaning.
The question then becomes how do you find a good one? Well fortunately, there are some key things to look out for when searching for a reputable company that will not only clean your roof but also keep it safe from leaks.
Soft wash cleaning is a technique that is used to clean and remove old and unwanted substances from rooftops. It has been found to be cheaper and more environmentally sound than other methods of cleaning roofs. This technique uses a low-pressure sprayer to apply the solution onto the rooftop, which then converts it into a fine mist that runs off the surface of the roof. The mist then adheres to the substances on the roof and breaks them down, causing them to roll down with water, bring them down with gravity or be carried away by wind.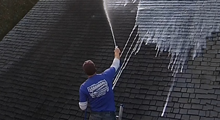 Soft wash is a process that involves using a low-pressure, non-chemical water jet to remove unwanted materials from rooftops. Non-chemical soft wash solutions are utilized to clean both roofs and facades. Non-chemical, biodegradable detergents are also utilized during the application of the process.
The cleaner is applied either as a spray or as a foam on the rooftop surface based on the required needs. The cleaning solution is then used as a way of loosening up some of the unwanted contaminants on the surface of the roof. The pressure is then only increased slightly in order to lift these contaminants off of the surface and away from it.
If you have a house with a shingled roof like most older homes, the siding will slump and peel off over time. Professional soft washers will refresh your outdoor living space by removing unwanted materials from your home's roof. These include algae, lichens, mosses, fungi, and other organic materials. A professionally cleaned roof can also save you money in the long term because it will last longer.
It is important to take some time when finding a company that can provide you with the best in soft wash roof cleaning. While it may seem like an easy task, there are many things that need to be considered before you make your final decision. Here are some tips for finding the right company to help you with your soft wash roof cleaning needs.

Research local companies– Keep in mind that not all companies offer the same services, which means each company will have its own customer base. You should take some time when researching different companies and see if they will be able to help you with your specific needs.
Soft wash roof cleaning is a simple and cost-effective solution for removing unwanted materials from roofs, including algae, lichens, mosses, fungi, and other organic materials. If you are considering investing in roof cleaning services but don't want to strip or paint your roof, Soft wash roof cleaning may be the perfect solution for you! It's important to find a reputable company before hiring them so make sure they have experience with this type of project. We recommend asking about their past work if anything like this has been done on your property before. You can also check reviews online to see what others say about their service! This will help ensure that when it comes time for your project – everything goes smoothly without any surprises.
If you're looking to soft wash your roof here is a video with some helpful tips!
Ambassador Window Cleaning & Maintenance
https://www.google.com/maps?cid=5684033418591054784
(843) 766-6890